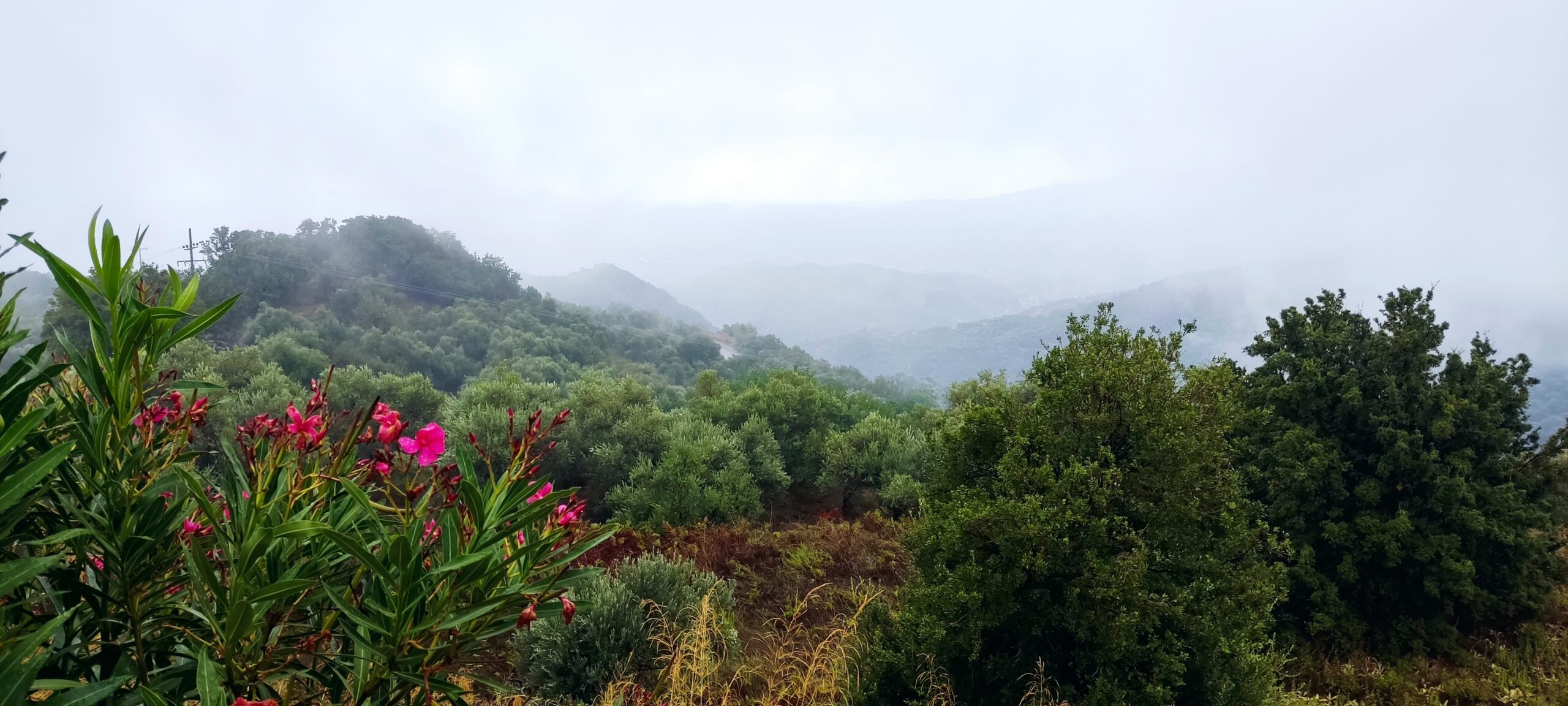 WHEN THE SUN DON'T SHINE WE HEAD FOR THE HILLS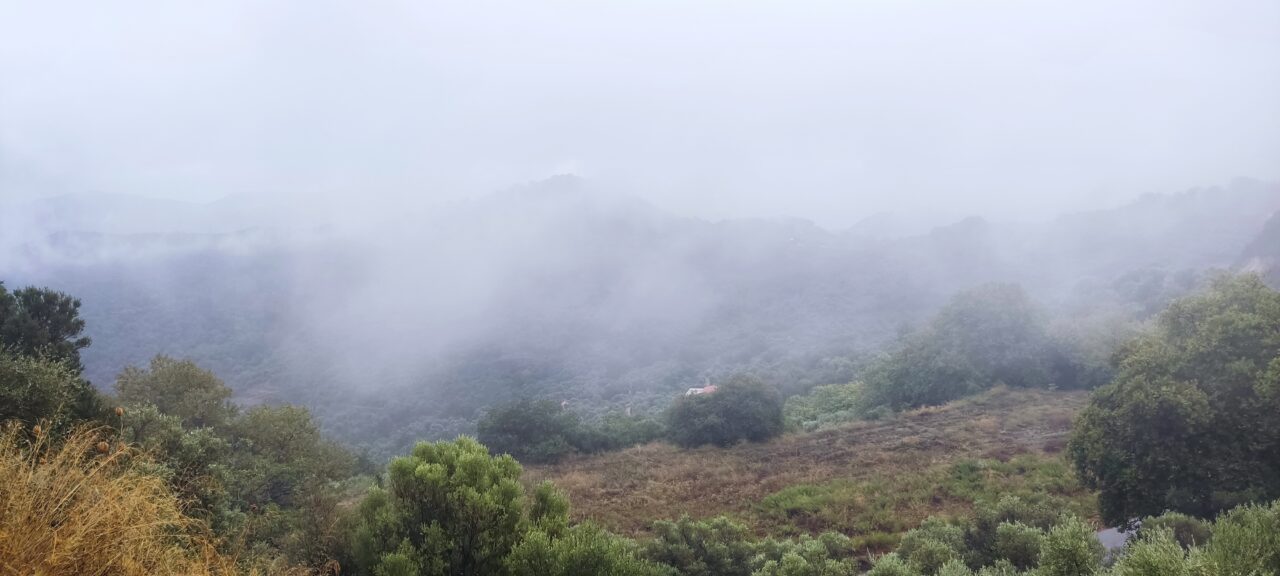 Most days in Crete the sun shines. Those days people hang out around the pool or go down to the beach – we're famous for our beaches. Very occasionally the sun doesn't shine, it gets a bit cloudy and might even rain. But we don't panic – we simply head for the hills. This is a story of a trip with a few long-standing guests one such cloudy Sunday.
The mountains of Western Crete are fabulous, beautiful and hold their charm all year round, with breathtakingly beautiful panoramic views. It's a rugged place with a rugged lifestyle. The mountain people long ago learned to be self-sufficient, producing what was needed locally and what sharing resources they could coax from the arid terrain.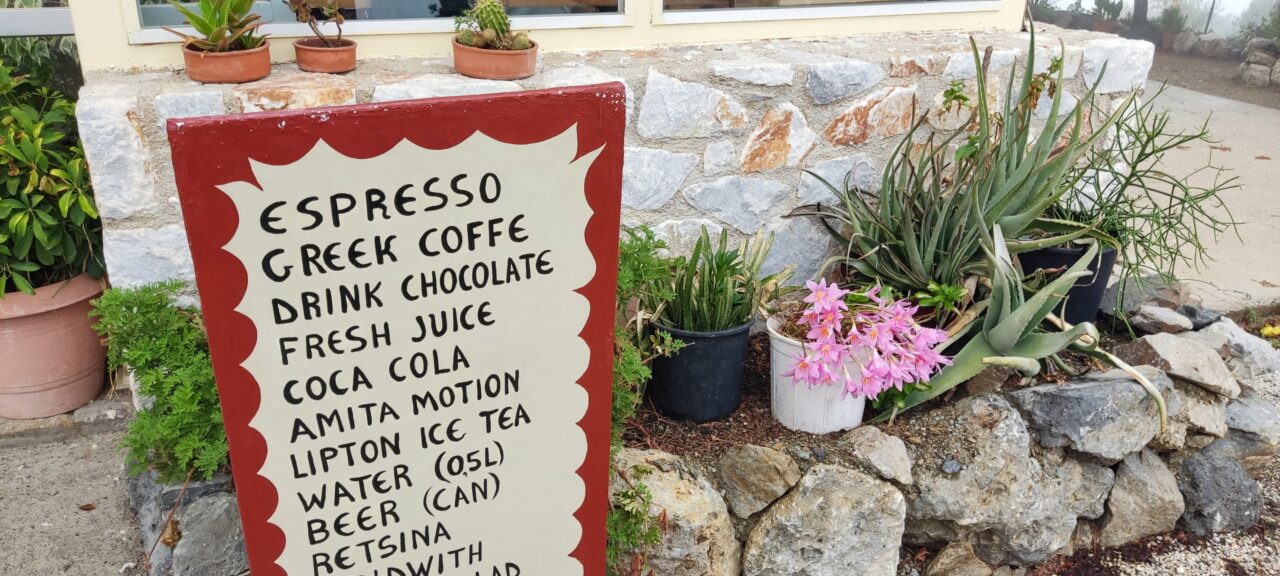 HIDDEN AUTHENTICITY
All-in-all it's a 'no frills' sort of place without the vanity of life's little luxuries. In short, it's totally 'authentic' and sees very few tourists. Actually, scenery aside, there's not a lot to for tourists to see – unless you look very carefully. Luckily, we know exactly where to look to find the most surprising and delightful hideaway Katina with the most authentic food you could possibly imagine.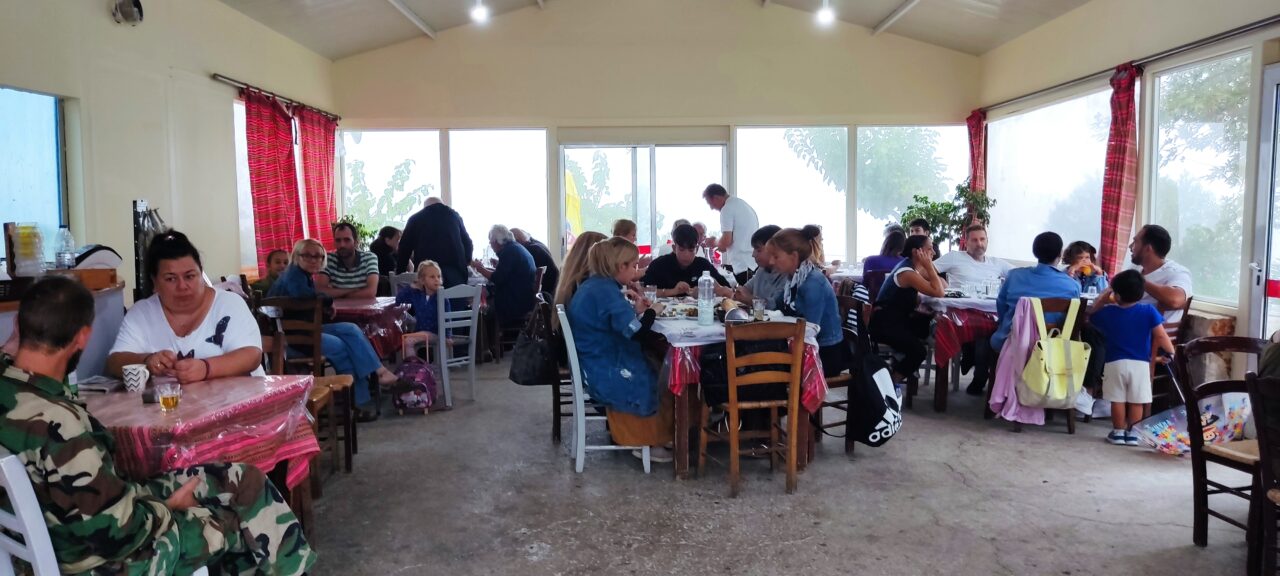 THE KANTINA TOU PROVIDI
The Kantina Tou Providi is one of those 'don't-blink-or-you'll-miss-it' sort of places. Even if you notice it, it's the sort of place you probably wouldn't think twice about stopping at. It sits a little bit back from a road leading to the Omalos Plateau that winds its way steadily up the mountain. The only thing that might make you wonder is that, whilst it looks like a small and insignificant café, it has a huge car park.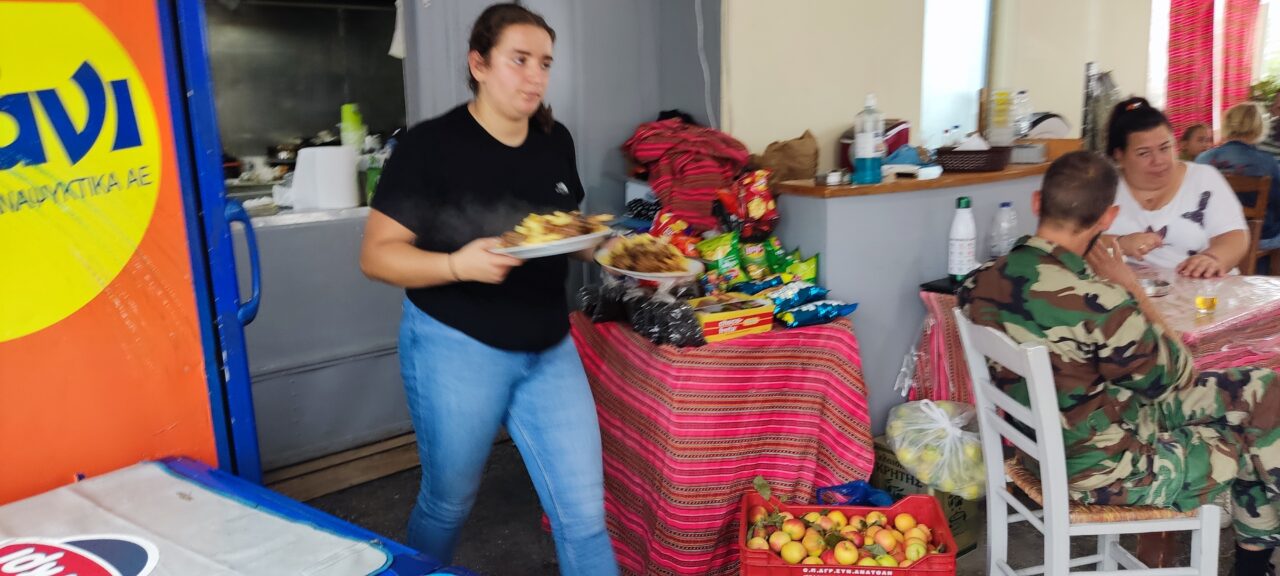 IT'S A FAMILY AFFAIR
Of course, like all the best hidden gastronomic delights, the Kantina is family owned and family run as it has been for generations. Mum is Head Chef, the son runs the grill and oven outside, the daughter takes the orders and serves the drinks and dad is the general 'gopher'. On a typical Sunday like this, with all the tables fully booked, it's an impressive operation. Sadly, the closed-in weather meant we couldn't enjoy the normally spectacular views. On a clear day you can see down to the Mediterranean across a vast layout of green from olive, chestnut and fruit trees.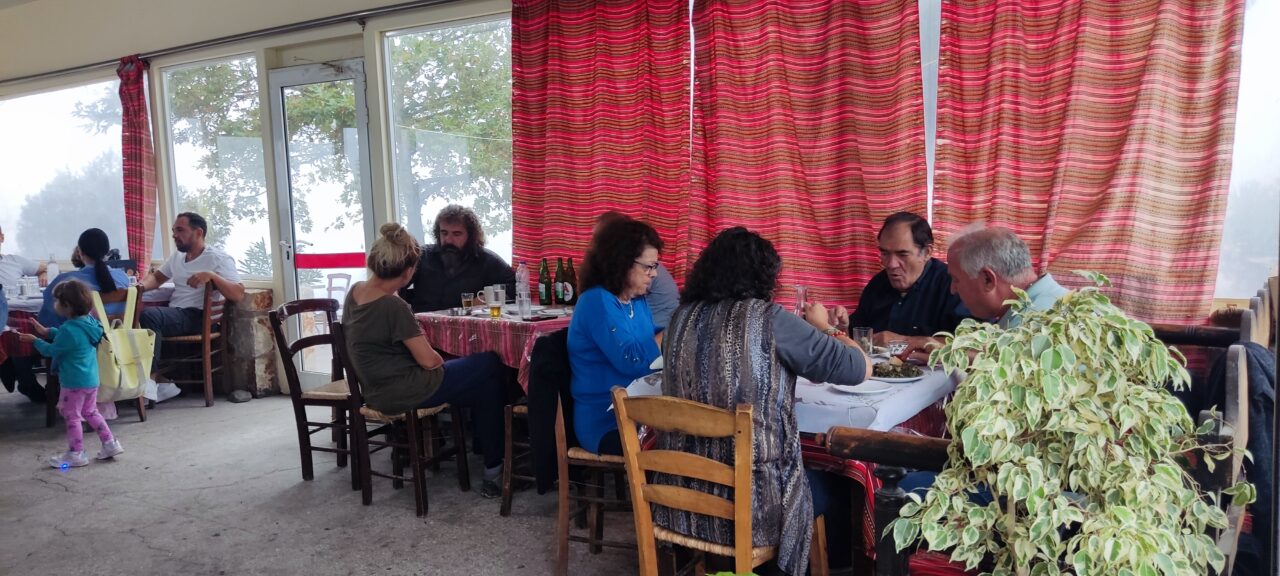 AUTHENTICITY IS SIMPLICITY ITSELF
In the mountains authentic means simple. The Kantina, a building rather like an English village hall, has traditional Cretan motif textiles for curtains, with typical wooden chairs and tables – some painted, some not. It's actually pretty rustic and nothing really anticipates the creature comforts about to unfold on the plastic tablecloths.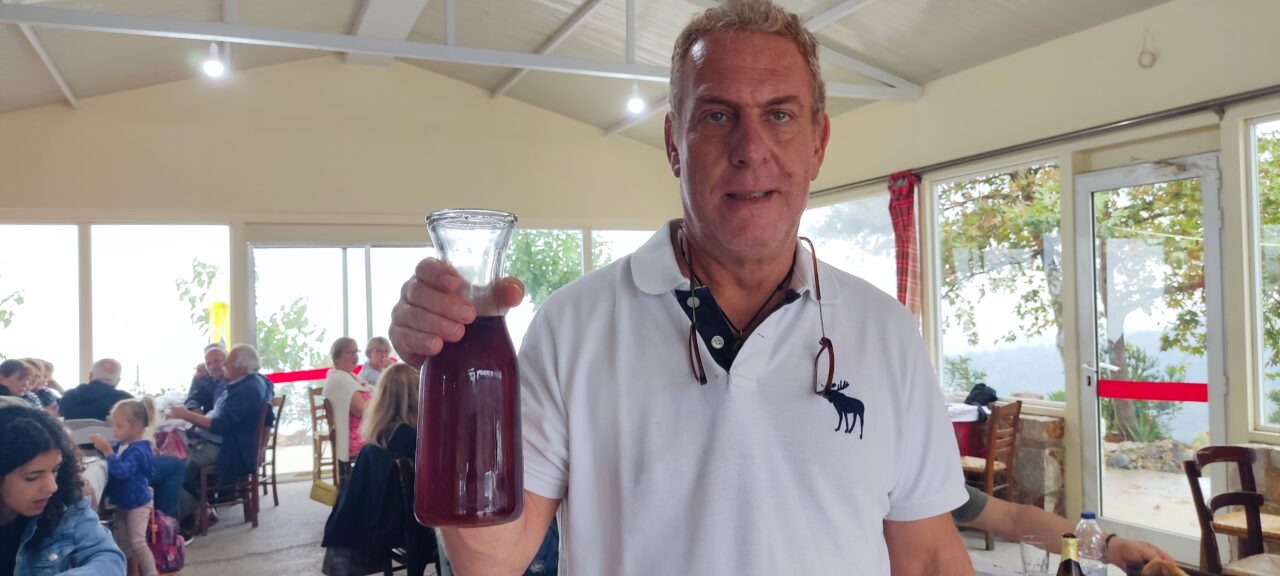 HORS D'OEUVRES
A huge carafe of red house wine, produced by the family from their own grapes, is first to arrive as Athena comes to take the orders. Locals don't need menus, they know what they came for and the list starts to build with vegetarian and meat dishes. First a huge Greek salad with a generous slice of Feta cheese on top – no Cretan would ever imagine starting a feast without a salad. On the side we receive a plate with the creamiest mizithra goat's cheese sprinkled with oregano and olive oil.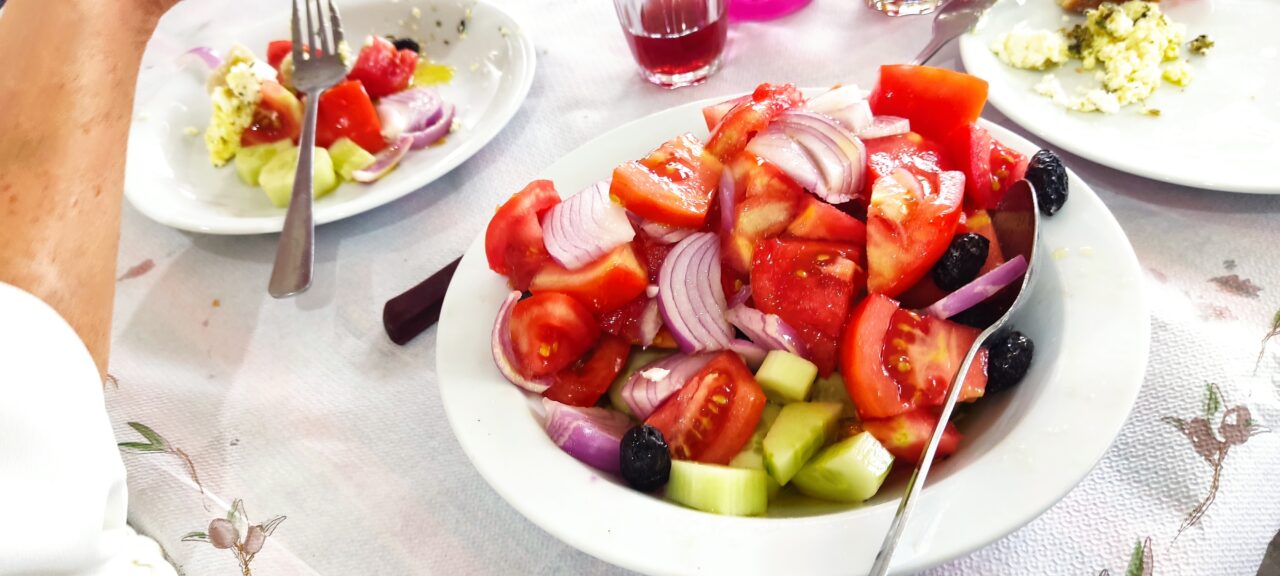 MY BIG FAT CRAZY CRETAN SUNDAY LUNCH
The star of the show is lamb with stamnagathi (wild herbs) cooked in avgolemono sauce (a delicious mixture of egg and lemon), potatoes and courgettes baked in the oven, pork with herbs in slow cooked tomato sauce, staka (made from made by boiling and salting the butter fat of goat and sheep milk) with fried potatoes in olive oil, and a generous serving of grilled lamb chops.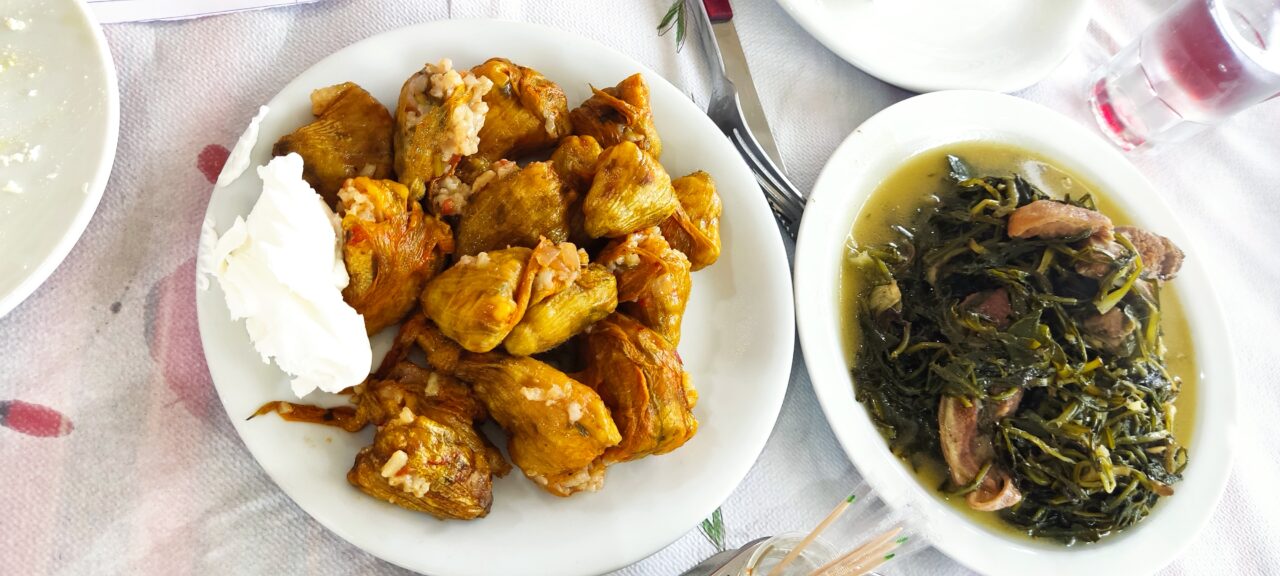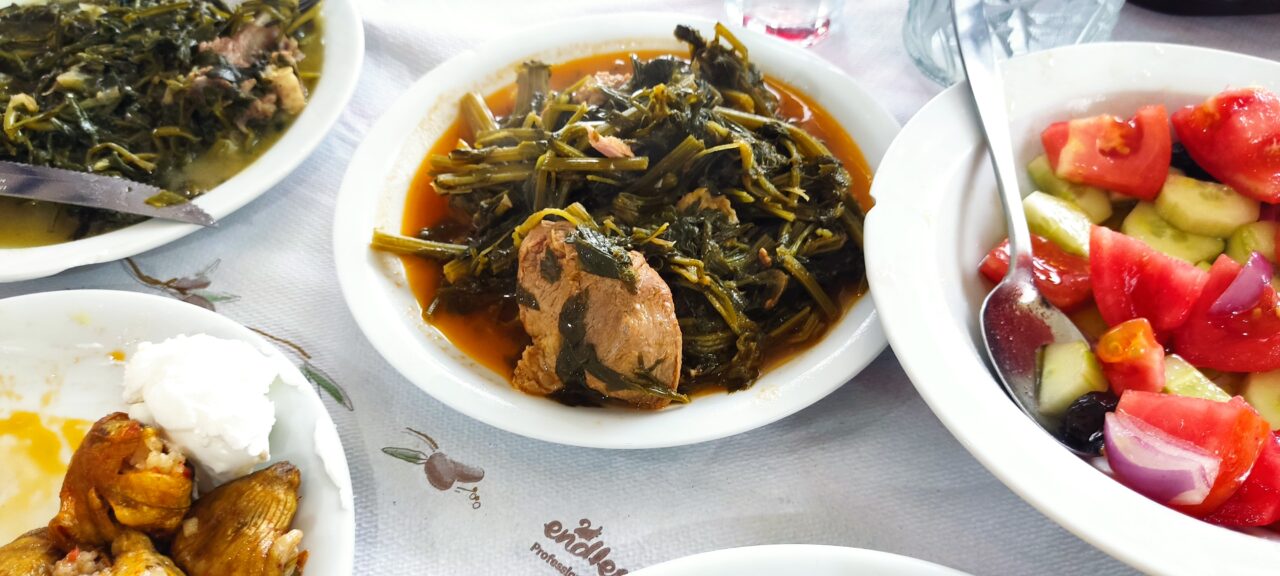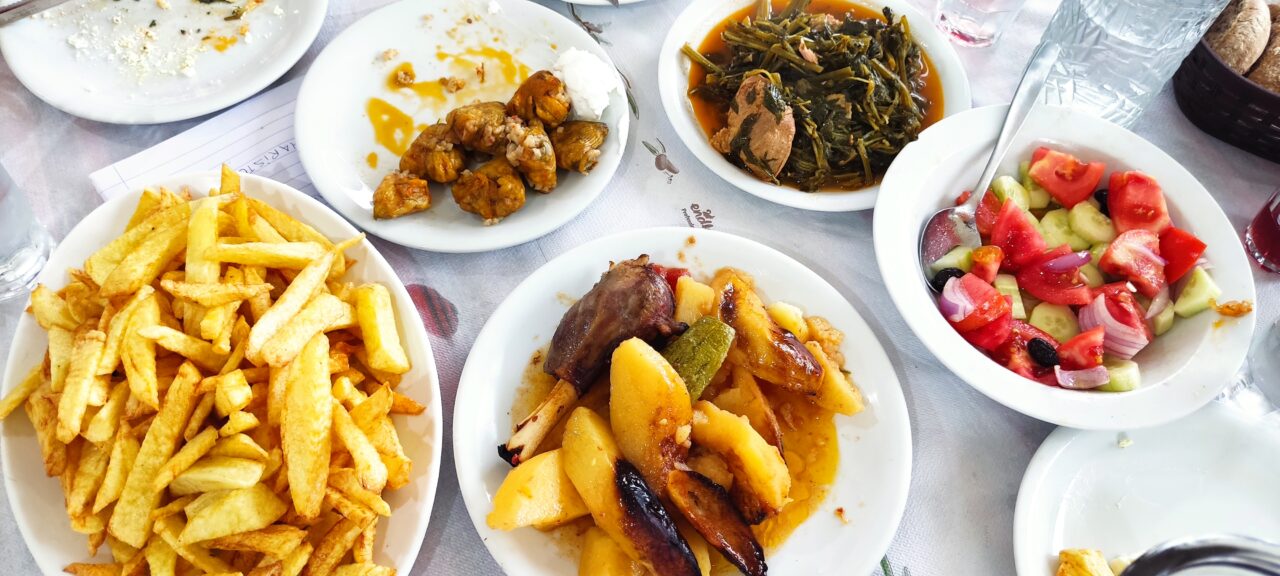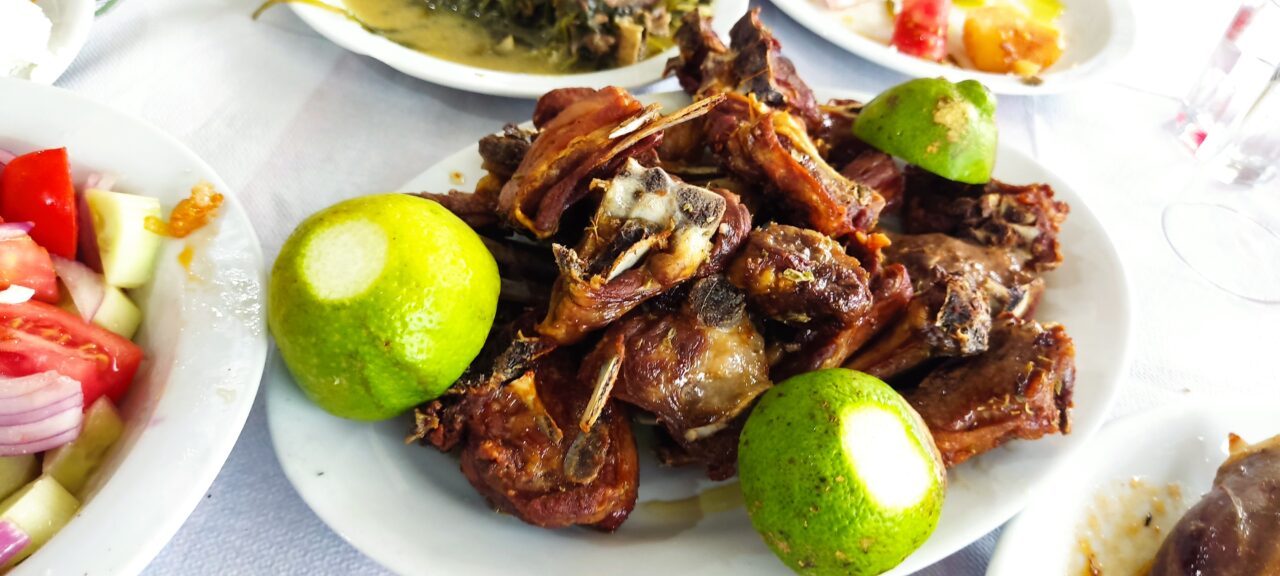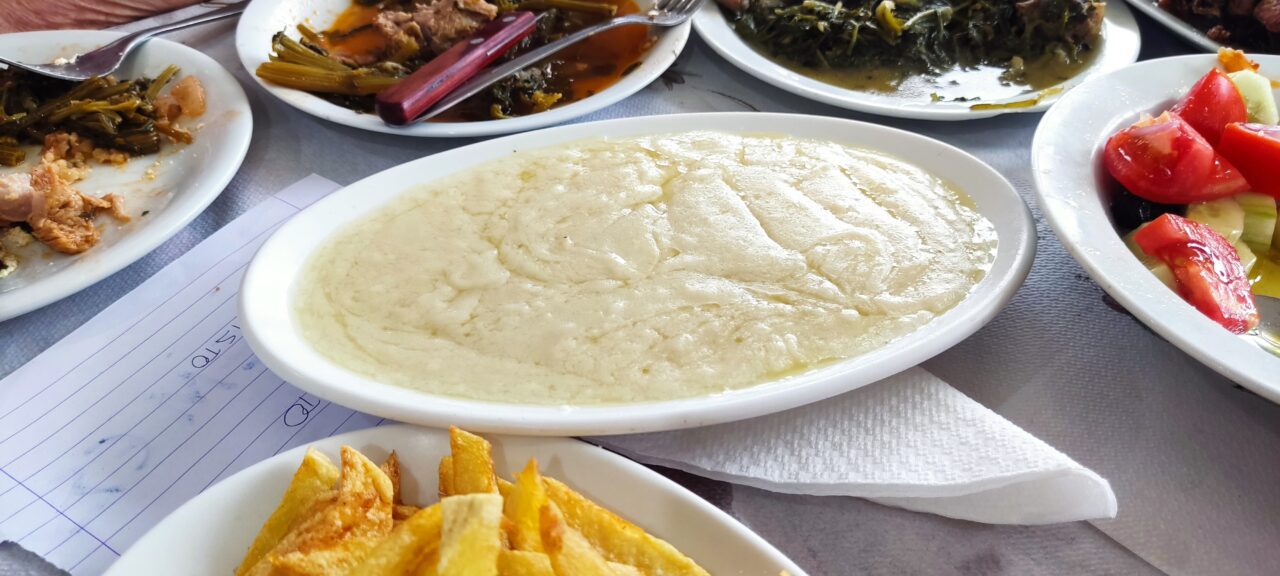 The wine keeps flowing and at the end of this huge meal, they serve us a plate of apples straight from the tree and traditional fried pies with goat cheese drizzled with honey. Then a carafe of Raki to help the digestion.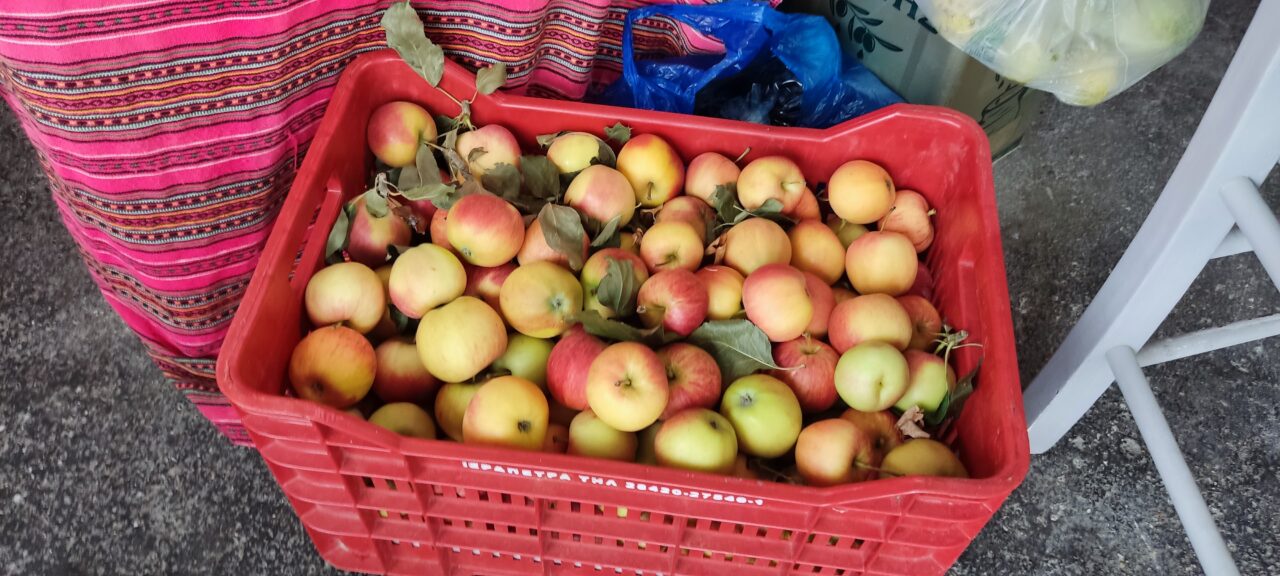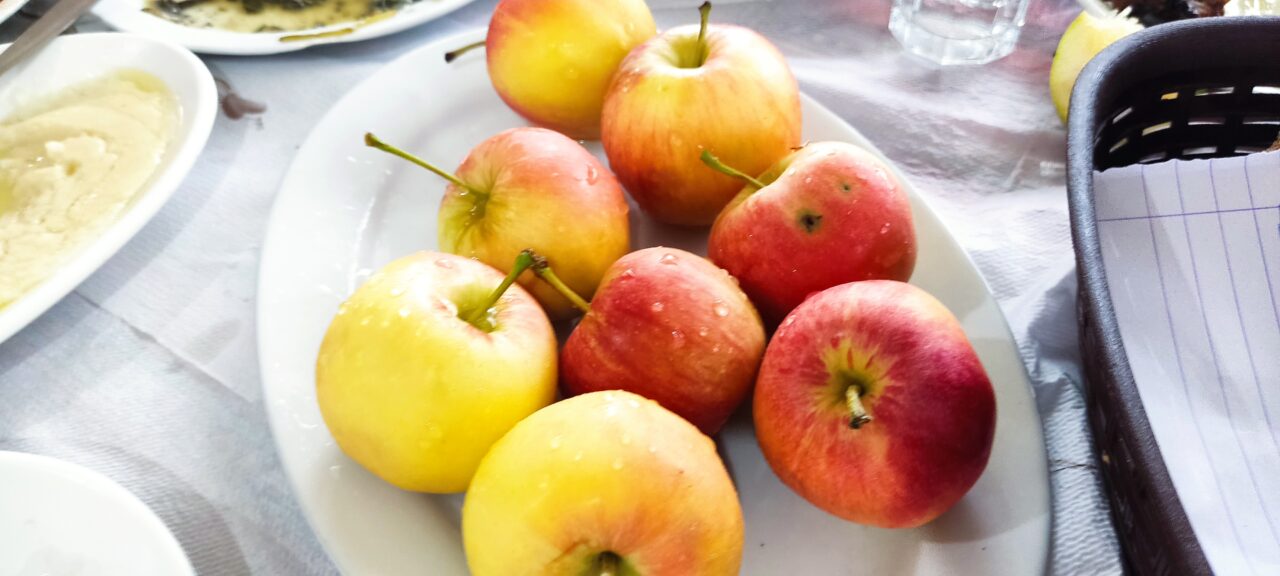 WHEN TARANTINO MET LEONARDO (NOT DI CAPRIO!)
As we start to wend our way home people are still arriving for the next sitting. It all feels a bit surreal – like Quentin Tarantino reimagining Leonardo da Vinci's Last Supper as a fire pit BBQ in the Cretan wilderness. It's not so much a Sunday lunch as an out-of-body experience – certainly the food is out of this world.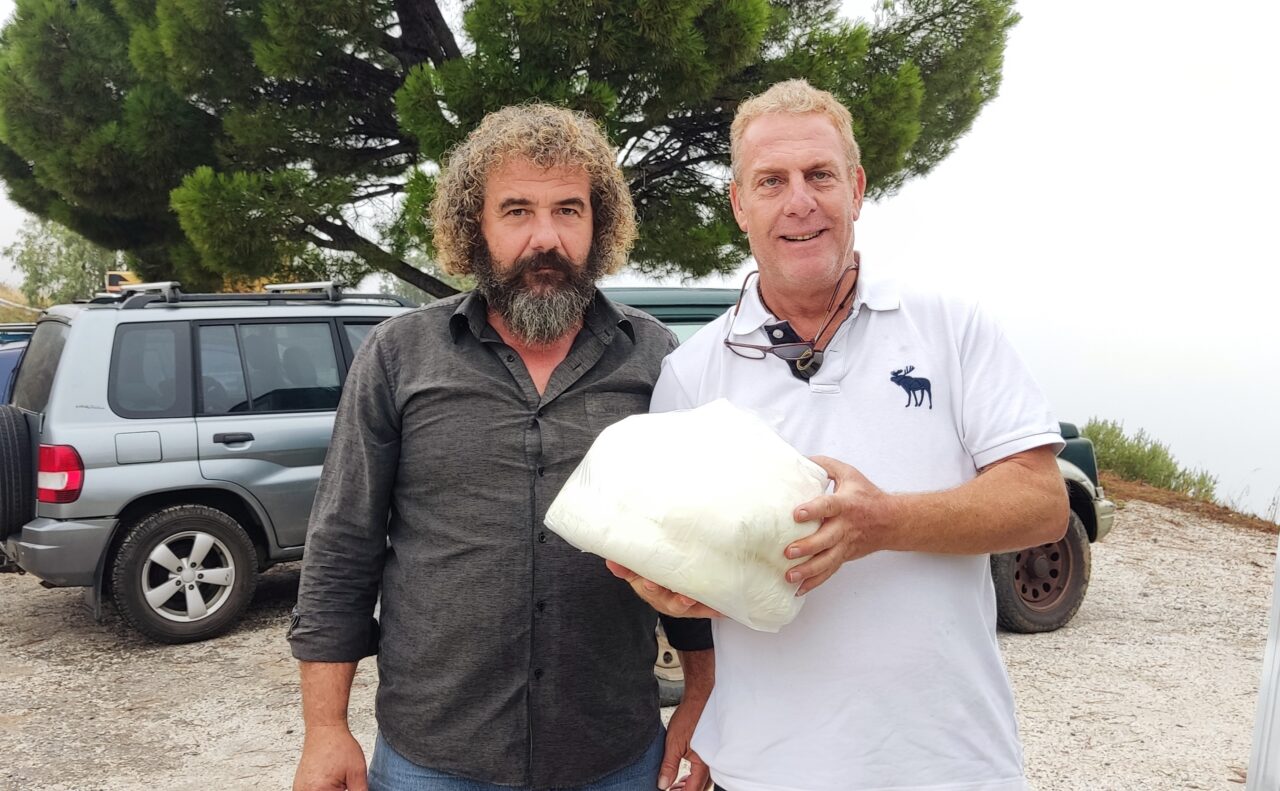 Before leaving, Adonis gets his 10 kg of mizithra goat's cheese delivered right from the Omalos plateau, fresh and tasty to go directly into the Mistral kitchen and be transformed into delicious dishes.
Next time we really must come when the sun is shining, sit outdoors and drink in the view as we knock back the glasses of 'oinos kokkinos'.