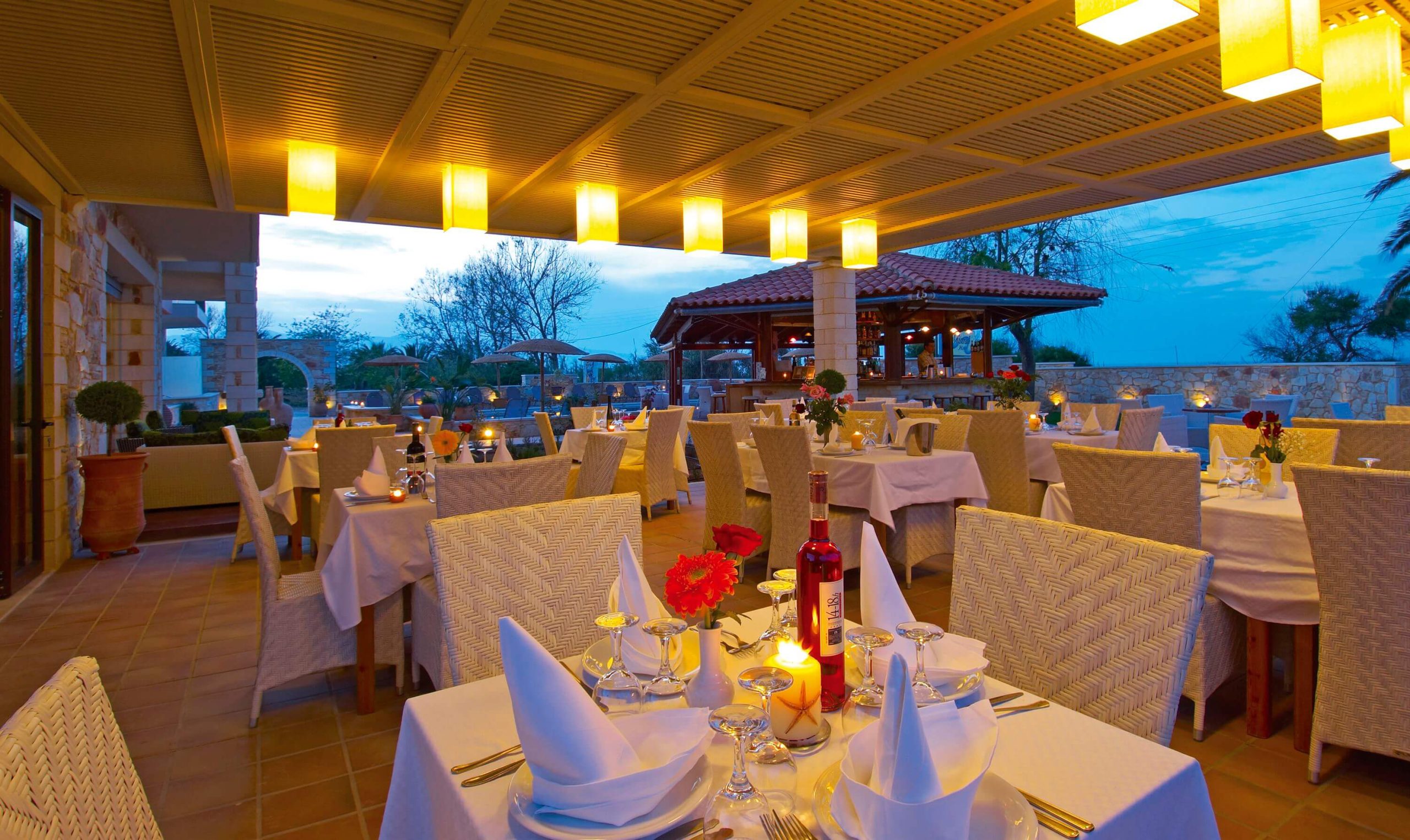 Serving up the best of Cretan cuisine
Dining at the Mistral is friendly and social and for many guests represents one of the highlights of their stay. We serve traditional, healthy, home-made Cretan food with all guests eating together to enjoy a truly Mediterranean experience.
Seated at long tables, the meals showcase the best of the island's cuisine, with much of the ingredients sourced from our hotel garden and cooked using exclusively extra virgin olive oil from our family groves.
Evening menus include dishes that are very specific to Western Crete (boureki of Chania, kalitsounia, marathopites) as well as famous Greek specialities (moussaka, dolmades, tzatziki, taramasalata, grilled meats, fresh fish, courgette fritters, stuffed eggplants, spanakopita, gemista) prepared with fresh, in-season vegetables and locally sourced meats and cheese. Specific dietary requirements are catered for.
Complimentary red and white wine is served in carafes and included with the evening meal. A selection of coffees and teas are available at the end of dinner.
Breakfast at the Mistral is a continental style buffet which includes a selection of seasonal fruits, cereals, eggs, fresh bread, local thyme honey, freshly squeezed orange juice and local fresh Greek yoghurt. Omelettes, fried eggs with bacon or French toast are served alternatively on different week days. Local cheese (Cretan Gruyere, Feta, goat cheese), freshly cooked pastry as well as home-made bergamot jam and orange marmalade will give you a taste of the traditional Cretan breakfast.
*If you want to learn more about Cretan cuisine, sign up for our wine tasting lunch and cookery class, or you may wish to join our Flavours of Crete Week.
CRETAN CUISINE
As people increasingly strive towards a healthier way of life and are more discerning about what they eat, the Cretan diet is widely-recognised as one of the healthiest in the world.
Health and nutrition scientists have long since set the standards for the Mediterranean Diet based on the Cretan Dietary Pattern, which refers to the consumption of specific foods, and eating habits and cooking customs which are the essence of a particular lifestyle, coupled with physical activity.
Why is Cretan food so good?
The answer is because it is homemade; it is what the people eat every day and the produce is sourced from the land around. The combination and mix of landscapes, from the arid south to the fertile north of the island, and the irrigation of the soils, enhance the flavours.
How does this relate to the Mistral?
Many of our guests tell us that one of the highlights of the Mistral experience is the homemade food. We believe in the principles, and are members of, the Slow Food Movement and our philosophy has two main components: we stick to traditional dishes as much as possible; and use as many fresh vegetables and foods as we can.
Our vegetable garden provides a significant part of what we need; tomatoes, courgettes, aubergines, greens, dill, mint, eggs, lettuce. Goat cheese, honey and bread is sourced from local farmers.
*See our lunch, à la carte menu here.